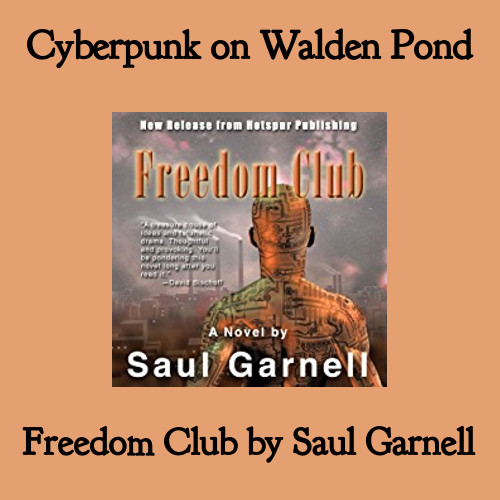 I met Saul Garnell at a sci-fi convention in Phoenix a few years ago. We had lunch and an interesting discussion. Shortly thereafter, I bought his newly published e-book Freedom Club, but as I had a lot on my reading list, I didn't get to it until several years later. I should have gotten to it sooner. It's a cyberpunk-ish story about a future dystopia, but with a serious philosophical foundation.
Freedom Club takes place in a near and plausible future in which artificially intelligent beings called Sentients are commonplace. Though they talk and think like people, they are actually specialized programs running on silicon/brain tissue hybrids. Being smarter and faster than real humans, they play an important role in the world economy. Thus automation is supplanting even knowledge workers, though there are laws that attempt to protect human employment.
The story follows a large number of characters whose lives are in some way affected by technology. These include Hugo, a cyber-investigator, Flip, an unemployed handyman, and Sumeet, a laid-off financial analyst. A number of Sentient characters play point-of-view roles as well, both conventional corporate AI's and unregistered Sentients whose very existence is illegal.
As the story opens, a major systems outage hits many of the world's popular shopping districts simultaneously. The locations include Phoenix, Tokyo, and Bangalore. The authorities suspect sabotage by a group of anti-technology radicals. The story follows some of these radicals, as well as the people who are attempting to stop them.
The book examines several important themes. How can humans feel needed and useful when automation is supplanting their reason for being? Regarding the Sentients, what happens when they experience emotions and begin to search for a deeper meaning? To keep these powerful beings under control, there is strict regulation of the creation of Sentients. This includes a ban on religious instruction during a Sentiet's 'training' period, which is akin to the maturation of a child. Shinzou, one of the Sentient characters, becomes a devout Catholic due to his creator's disregard for this law, giving him some unexpected personality quirks.
The name of the book provides a common thread, drawing together the philosophies of various humanistic anti-technology writers throughout history. These include Lord Byron, Jean-Paul Sartre, Alan Ginsburg, and most notably, Henry David Thoreau. Henry, Thoreau's 21st Century Sentient namesake, calls this unofficial group the "Freedom Club." That was an interesting touch, though I strongly disagreed with the inclusion of convicted terrorist Ted Kaczynski, the so-called "Unabomber." Kaczynski does, however, provide an interesting counterpoint to the pacifist Thoreau.
The story itself was intriguing and I could really relate to some of the characters, especially Sumeet, as I myself was between jobs at the time I read the book. I also liked the Sentient character Henry and his predecessor Thoreau. There is also considerable tension between Henry and his fellow "outlaw" Sentient Shinzou. Another element I really liked was the idea that the small Arizona town of Bisbee turns itself into a haven free from modern information technology.
One aspect of the book I found frustrating was the author's determination to showcase a small scene from each of the historical "Freedom Club" members. This caused extended interruptions to the main story thread without adding much. I'll excuse Thoreau's contributions, however, since his philosophy is rather central to the book.
Freedom Club is an absorbing novel suffused with philosophical musings on the purpose of mankind and the impact of progress on human life. I could really relate to some of the characters, though I found many of the historical digressions annoying. As much as I admire Thoreau and applaud his centrality to the "Freedom Club," the inclusion of Ted Kaczynski bothered me. For these reasons, I give this book the imperfect but still positive score of four out of five gears.
Freedom Club is available on Amazon in Kindle and Audiobook formats.